We all know winter can be a drag!! It is so cold, gets dark way too early, and it feels like it will never end. Here are a few of my faves around the house that have helped me find my happy place again!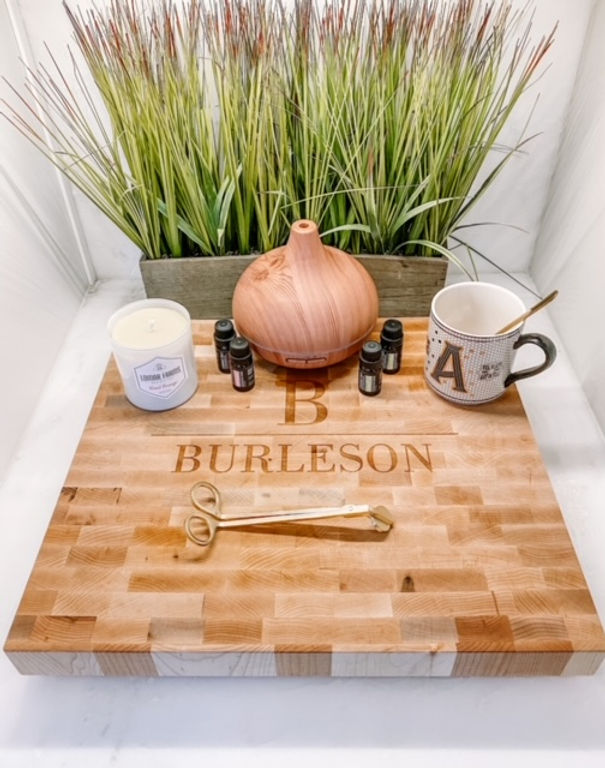 A warm cup of tea soothes my soul and helps get my day started. My go to mug is this one from Anthropologie. It is personalized and stylish, and makes me feel good!! Stir in some honey with this gold spoon from one of my favorite sets and enjoy!!
A custom cutting board from William Sonoma makes you feel so special when you are in the kitchen. My girlfriend Stacie gave this to me as a housewarming gift along with some knives and it was so special and heart felt. Even if you already have it, consider this as a gift.
Lomar Farms is a must!!! There's nothing better than lighting a candle in the evening when I come home. They set the mood and are natural and safe. It's made by a local family that has a bee keeping business and uses their wax to make amazing smelling candles!
P.S. You can't have an amazing candle without an amazing candle wick trimmer! Go for the GOLD!!! It'll makes you feel good! 😉
Finally, let's talk about this Aromatherapy diffuser set from Amazon!! The ultrasonic diffuser glows different colors to set the mood, has 2 intensity settings, and has a shut off feature when the water gets low. Did I mention it comes with 10 essential plant oils? It is gorgeous and will keep your house smelling good! Say goodbye to winter blues and hello to good moods!