How to lighten the load in November
I don't know about you, but I get a mixture of excitement and anxiety in November thinking about everything that I have to do to get ready for Thanksgiving. Over the years I've learned that the best way to guarantee a happy, stress-free Thanksgiving is to start planning early because it sets the tone for the rest of the holiday season.
Who's Coming to Dinner?
Let's begin by decorating your home with love and thankfulness. Setting the ambiance and decor early only heightens the anticipation of Thanksgiving and gets everyone excited! I love Thanksgiving wreaths, pumpkins, hints of gold, foilage and a few beautiful signs that remind us to be thankful. Once you've set the stage for Thanksgiving with your decor, its time to start thinking about Thanksgiving Dinner. Start the process early and figure out your guest list. Knowing your guest list also helps with planning the menu and will save you a lot of stress later in the month. Giving you guests a simple gift letting them know you are thankful for them always goes a long way!
Whether you're entertaining nearby family, doing Friendsgiving, or hosting your entire extended family for a weekend celebration, having your approximate headcount allows you to make arrangements for seating, food, drinks, and activities. Send out your invitations early and you will have an accurate guest list by at least mid-month.
What's for Dinner?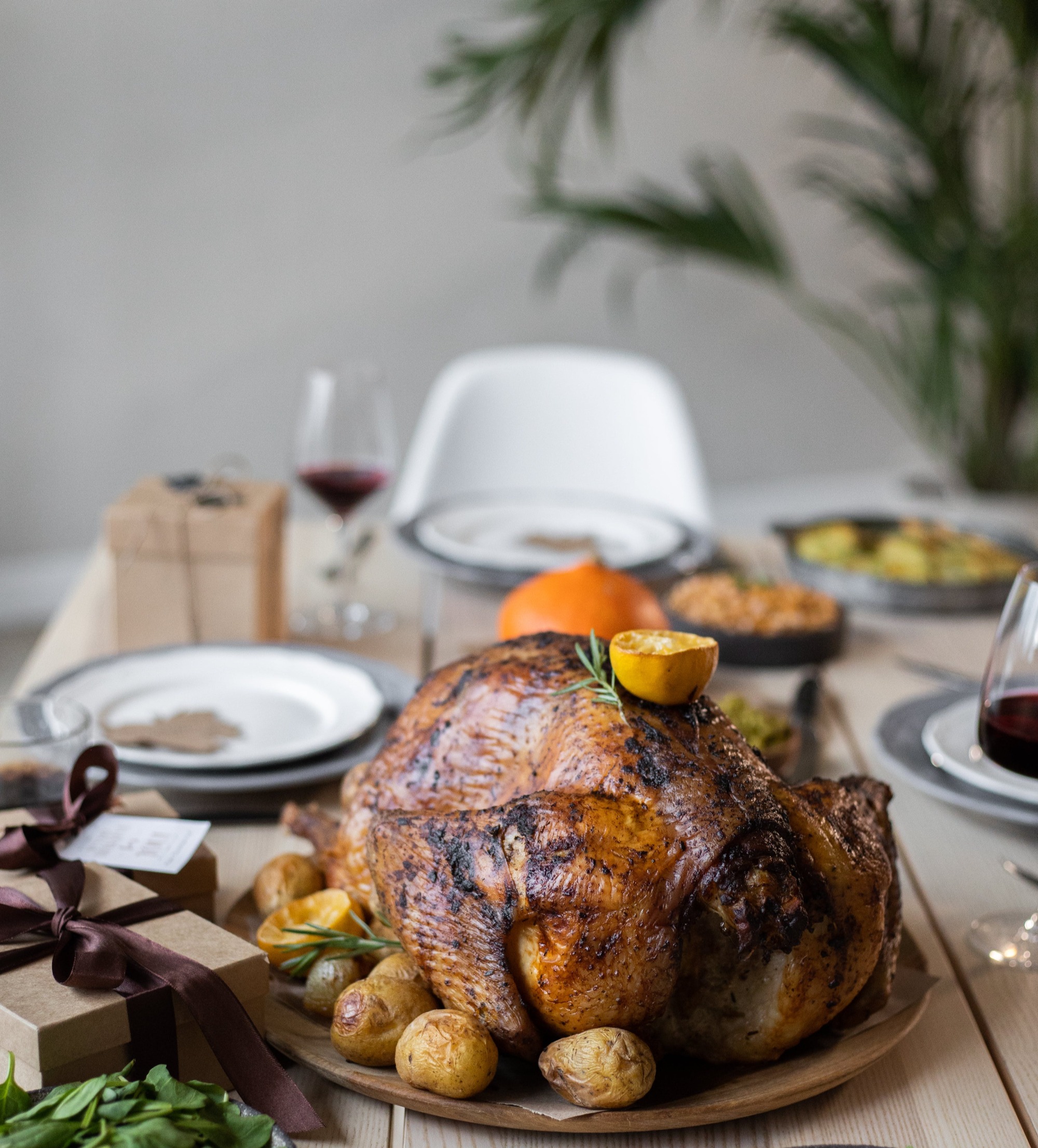 After confirming your guest list, it's time to curate the perfect menu. This is one of my favorite parts each year, designing and preparing a meal everyone will enjoy! I know its hard balancing everyone's dietary preferences and restrictions, but the Thanksgiving meal is SO versatile that you can definitely find a way to support each guest's individual needs, without working too hard.
I like to mix up the menu a bit each year. I usually cook the food myself and let me tell you something, my mac and cheese is the BOMB!! Truth be told, if I didn't make it, my family would disown me! However, we Moms (and some Dads) know how time consuming it can be to do everything, so don't be afraid to delegate certain side dishes to your guests, especially if they live locally. For me, I like to save myself some stress and order some desserts from Magnolia Bakery or if someone else wants to bring a dessert I welcome the love!
Here's a little inspiration from this year's menu!
Burleson Thanksgiving Dinner Menu
Banana Pudding
Peach Cobbler
Sweet Potato Pie
Dessert Menu
Stuffed turkey with dressing
Cherry and pineapple glazed ham
Mac and cheese
Candied yams
Collard greens
Cranberry sauce
Rolls and cornbread
Designing the Perfect Table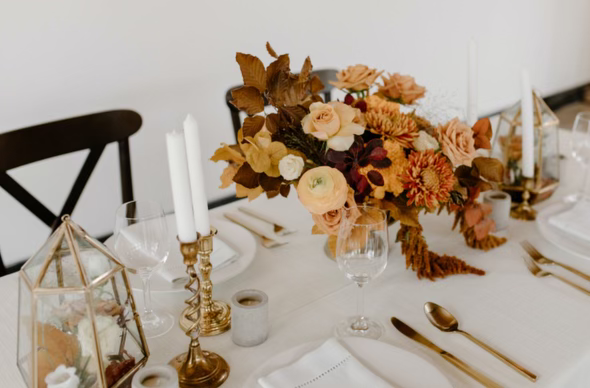 Now that we have handled all the important details, it's time for the real fun to begin! Let's start designing our tablescapes!
I just love the way incorporating gold accents into Harvest themed decor makes everything so elegant and timeless. I ordered a few items from Z Gallerie to freshen up this year's Thanksgiving Table which I will share with you. (Bonus: they are all on sale!)
These gold rimmed wine glasses come in sensible sets of 4. They also have coordinating double old fashioned's that are perfect for your kid table. From Z Gallerie.

This set of 3 differently sized serving plates are super elegant. They are gold rimmed also which adds a bit of an exotic touch. From Z Gallerie.

These lanterns will make excellent centerpieces, and you can use them year round elsewhere in the home. From Z Gallerie.

This flatwear set from Neiman Marcus is to die for. A lot of gold flatwear is not dishwasher safe, or the gold will wear excessively over time. But these are made using a technique that vacuum seals the gold to the titanium flatware, which creates a life-time finish. These are definitely an investment but they will last a long time.
5 Ways I am Thankful, Grateful and Blessed
Thanksgiving wouldn't be Thanksgiving without traditions! My favorite part of the whole holiday is when we all take turns by going around the table and saying what we are thankful for. This season reminds us what life is really all about.
It's never too early for gratitude! Gratitude is a wonderful practice that can help you focus on the positive aspects of your life. Here are five things I am thankful for:
Good Health

If you are healthy and able to enjoy life without significant physical or mental limitations, that's something to be thankful for. Your health is a valuable asset.

Loving and Supportive Relationships

Family and friends who care about you, support you, and share life's joys and challenges with you. These relationships provide a strong foundation for emotional well-being.

Basic Necessities

Access to clean water, food, shelter, and clothing are fundamental needs. Many people around the world lack these essentials, so recognizing this and taking a moment to be thankful everyday is key.

My faith in God

My faith in God and my ability to give to others. Learning, growing, and showing love to others is why we are on this earth. It also brings so much fulfillment, joy and purpose to my life.

Personal Achievements

Reflecting, recognizing and celebrating your own accomplishments, whether big or small, is important during this season of gratitude. Each step forward in your personal and professional life is something to be proud of and grateful for. Your achievements matter!
In essence, remember that being grateful enriches your life and the lives of others. Practicing gratitude regularly improves your wellbeing and contentment, inspiring a positive feedback loop of gratitude and giving.
Happy decorating, planning, cooking, to you ALL and if stress pops up while you are so busy, remember what you are thankful for!
With love,
AB